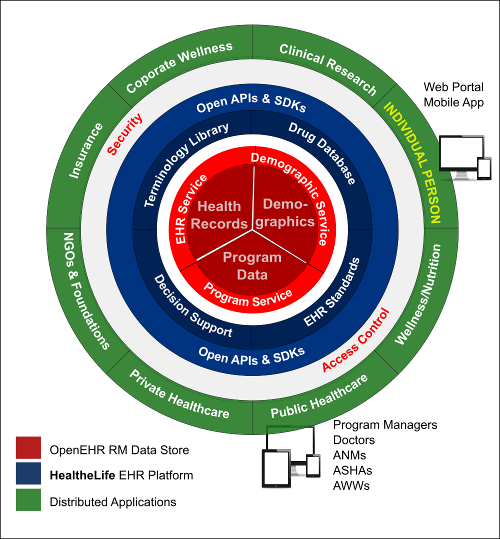 EHR.Network is a person centric Electronic Health Records(EHR) platform. It is open, standards compliant and built on modern SMACT technologies.
It is capable of managing an evolving set of clinical data and can support a wide range of clinical applications.
The basic features of EHR.Network are..
Platform to Store and Retrieve Health Records of an individual Electronically
Authentication and Authorization Control
Data Security
Demographic Data Storage
Indian EHR Standards Compliance
IndiaStack APIs to ensure national scope
OpenEHR Reference Model Compliance
OpenEHR Service Model Compliance
EHR.Store repository of individual EHR
Multi-tenancy Support
Scalable Platform
Cloud Service
EHR.Network is designed to a store varied set of Health data. This platform capability will continue to expand based on use cases that are progressively deployed. A broad outline of the scope of this data is as below.
History including Family History, Past Diagnosis, Vaccinations, Allergies, Tobacco Use, Alcohol Use, Medications and so on. The stored data is constrained by standard SNOMED CT terminologies to make them computable and shareable. This further enables decision support to healthcare providers
Doctor consult includes Complaints, Observations, Diagnosis and Orders. Orders include Lab Tests, Radiology Tests, Procedures and Medication. This data is again computable as they are constrained by standards such as ICD, LOINC and SNOMED
Vitals – as captured during a consult are stored as computable data
Reports – Diagnostic Reports stored as computable data as well as media files
Demographics – Demographic data of a person is stored and correlated to their health data. The segregation of demographic and EHR data is designed to ensure privacy and confidentiality of individuals
Relationships – Framework for building relationships, that sits on the demographic data, enables the creation of a matrix of cross functional relationships between people and organizations. This forms a strong base for managing data privacy and fine grained access to the EHR of a person.
EHR.Network is available to healthcare providers or independent application developers to define and create new use cases in healthcare. This would enable enhanced efficiencies brought about by basing your applications on a managed electronic storage of health data i.e. as EHR. Contact us to know more.
---
Enabler
Healthcare needs are vast and varied. EHR.Network enables
Clinical practises to be defined
Health data for the clinical practises to be created, stored and retrieved per person
Data security – privacy and confidentiality of EHR data
Access control to EHR
Cloud service and hence available anytime, anywhere
---
Engagement modes
Solo rollout
If you wish to rollout the service independently then:
Contact us to get access to EHR.Network Service and REST API set
Design and Create User Application to Create, Store and Retrieve Data from EHR.Network
Applications could be Mobile, Desktop or Browser
Test your app and rollout the service to your target audience
You retain ownership and management of customers
We share revenue
Shared rollout
If you wish to have HealtheLife rollout your use case then:
Define your healthcare use case
Our team will understand your requirements, develop application and rollout the service
Co-ownership and management of customers
We share revenue