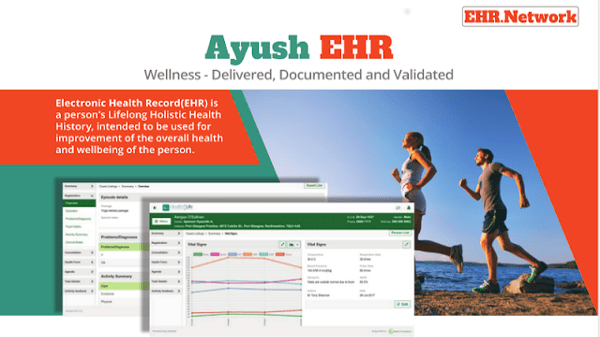 AYUSH Wellness and Healthcare sector arrives as an ideal Indic wisdom-based solution for the growing lifestyle related problems. To bring credibility and validity to the wellness practises of Ayurveda, Yoga, Naturopathy and others, we need Healthcare Information Technology(HIT) systems to document, track and validate their unique processes.
The lack of transparency in treatment processes has led to hearsay about the benefits or otherwise being spread through word of mouth. We help you address these challenges through our AyushEHR solution, a standards-based EHR solution for Delivery, Documentation and Validation of AYUSH services.
The current release of AyushEHR is focused on Ayurveda, Yoga and Naturopathy practices. It is an interoperable, individual-centric EHR software that records all treatment details for improved transparency between AYUSH provider and patients. It further makes available lifelong person individual medical data for continuous monitoring of health and its improvement.
---
Why AyushEHR?
---
How does it work?
This Cloud based software solution for Ayurveda, Yoga, and naturopathy helps them prepare to treat their patients, care for them and to connect with them post treatment. To effectively care for patients, AYUSH centres have to collect the medical history of their patients prior to their check-in to the centre. Using the retrieved data, the centre can plan the treatment and care protocol and prepare a therapy agenda that is personalized for the individual. AyushEHR allows this information to be shared with the patient, helping in the communication of the scope of treatment and any preparations required to be done by the patient.
On arrival of the guest, the treatment will unfold and all activities planned in the agenda will be tracked
Details captured by staff per activity, notes by staff and feedback by guest is captured
Data captured is shared with staff to continuously improve treatment delivery to the guest
The guest is in the loop as feedback provided is addressed during the treatment itself
The guest will also be empowered with treatment details and any clarifications or preferences gets addressed during the care period
On completion of the treatment, the lifestyle modifications initiated at the centre has to be continued to sustain the benefits
AyushEHR enables this crucial engagement between the centre and their customers. The coverage of the solution includes the following.
Prepare
Remote gathering of health information
Personalized treatment based on health history
Streamline planning of staff and facility
Customer confidence with shared care plan
Care
Collaborative treatment with captured & shared information
Continuous monitoring of plan, delivery and feedback
Enhanced experience with shared data and participation
Engage
Customer loyalty with shared health history
Remote support to sustain lifestyle changes
Remote care through updated EHR and review

---
How are we different?
AyushEHR, is built on years of International experience in building multiple EHR systems. This vast experience has enabled us to adapt these technologies to the domain of traditional healthcare practices that evolved over centuries of practice. This has enabled us to differentiate from the other conventional solutions in many ways such as
AYUSH specific reusable clinical modules
Aligned to Indian EHR standards
Computable data for flexible reports & analytics
Organizational hierarchy & multi-location support
Cloud based – Accessible anytime, anywhere
Pay as you go – Zero setup and administration costs